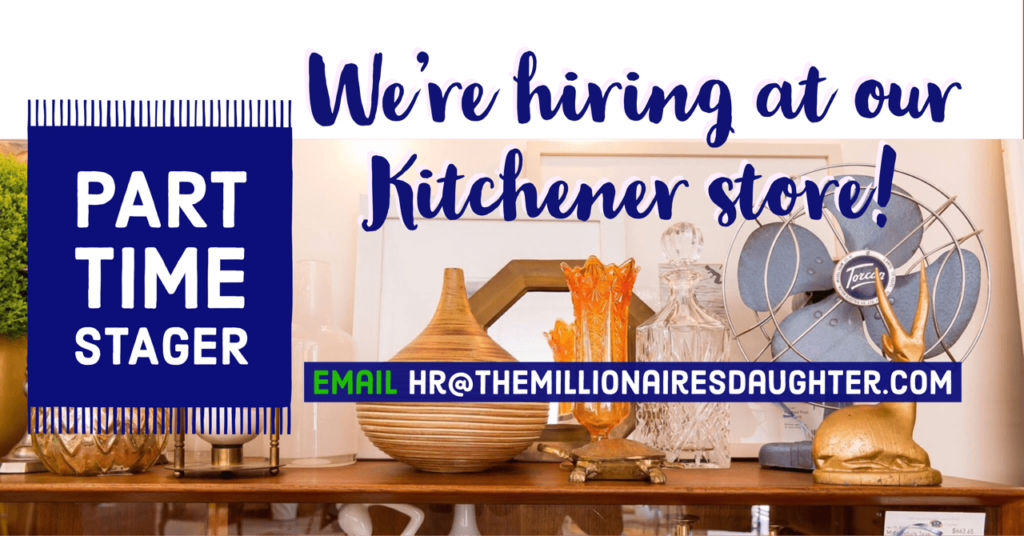 The Millionaire's Daughter is a mid-to-high-end furniture and decor consignment business with four retail locations throughout Southern Ontario; Hamilton, Oakville Aurora and Kitchener! We are currently hiring PART TIME for the Sales Associate/Stager position at our Kitchener store. Staging experience an asset but loving what you do is even more important. We strive to provide our employees with flexibility in their work schedule and an opportunity to be a part of a great team! Make sure your strong and physically fit as this job isn't for the weak of heart! This is a contract position for the first three months. If you are strong and creative, have excellent customer service skills and are comfortable using computers & technology, this job is for you! Must be available 20-25 hours per week with weekends in the schedule!
Some responsibilities would include;
– Creating aesthetically pleasing vignettes, staging and decorating the store
– Moving furniture throughout our 7500 sq ft warehouse, assisting customers with purchases, some light cleaning, vacuuming etc.
– Follow proper safety policies and procedures
– Providing excellent customer service to our consignors/customers by answering calls and scheduling appointments
– Answering store emails in a timely manner using the provided scripts
– Maintaining a store environment consistent with The Millionaire's Daughter brand
– Total daily sales transactions and balance cash, check, credit card totals at the end of the day, occasionally making bank deposits
– Keeping the front desk clean and organized
– Able to lift up to 25lbs
For more information and an opportunity to interview for this position we encourage you to send your resume and cover letter to us. The Millionaires Daughter is committed to Employment Equity and maintaining a diverse workforce. Job applicants who require reasonable accommodation for any part of the application or hiring process may contact our Human Resources Department at hr@themillionairesdaughter.com Reasonable accommodations will be determined on a case-by-case basis and your request will be responded to as soon as possible.
You'll also like these similar posts!