Once upon a time, there was a young woman with long golden hair who,  after a long journey through a forest of traffic, found herself outside of a wondrous new store called the Millionaire's Daughter.  She was very excited as she had invited some family members to celebrate Family Day with her on Feb 17th and needed some items to furnish her new condo, to make it welcoming, comfortable and joyful.  But she had to be very careful because she was on a budget. The store was brightly lit and welcoming, with flowers in the urns outside. Upon entering, she was curious about what she might find and started slowly meandering through the store.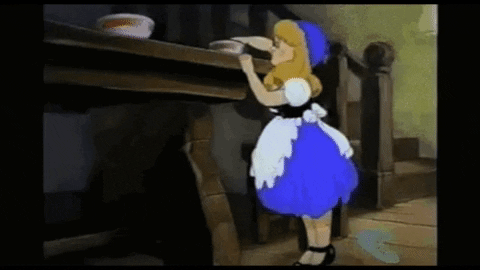 She knew that she and her guests would be sharing a meal so she looked for a set of dishes.
She found a lovely set, white with gold trim.
But the set was too big and ornate, not fitting her style.  
She continued on and spied a delicate floral set.
But the set was too small with too few pieces for her needs. 
Then she spotted a set of white dishes that would match her style.
The set was just right!
The golden-haired lady had only a few pieces of furniture in her condo so she decided to look for a chair that would be comfortable for her guests and co-ordinate with what she had.  
An upholstered chair and ottoman caught her eye. 
She tried it out but found that it was too big for her and for her space. 
In an adjoining room she noticed a chair with lovely curved arms.
Trying this one out as well led her to decide that it was too small!
A few moments later she came upon a grey upholstered tub chair. This chair really spoke to her.  
After sitting in it and noting its colour and design, as  well as its size, she decided that it was just right!   She removed the tag so that no one else would purchase it and carried on with her search.
By now it was getting late, very near closing time. A family member had just texted her that she would love to stay over for a day or two so the search for a bed for the second bedroom was necessary.
The first bed she saw was a beautiful king with ornate carvings.
But it was way too big!
The second bed she spied was a single size,  too plain and really too small!  
Finally, she found a queen sleigh bed that would go well with the other furniture she had.
And the size and cost made it just right! 
As she was daydreaming about what a wonderful time she would have with her family she noticed 3 staff members tidying up for end of day.  She rushed to the counter, paid for her items and left quickly so as to beat the rush hour traffic. The furniture was delivered the next day! On Family Day she and her guests dined and relaxed, sharing stories of past family adventures and her treasured new finds.
The moral of this story is that, with a little searching and a curious nature, you can find something that is JUST RIGHT for you and your family at The Millionaire's Daughter!
From our Oakville Family to yours, share the love this Family Day and every day!
Written by: Margaret